Historical Tour of The Islands National Defence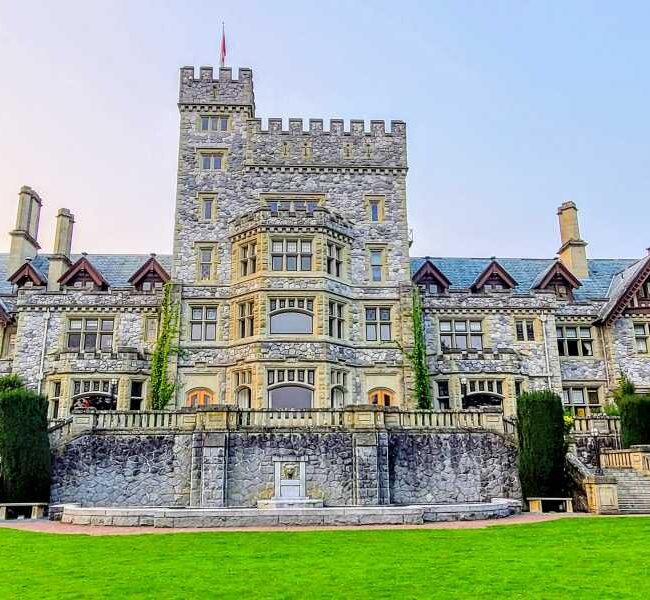 Private sightseeing tour Introduction:
Enjoy a day out while visiting some of Canada's largest and extremely diverse National historic sites. Their fascinating history and heritage buildings will really amaze you. You will be able to view original guns, secret bunkers, search light enhancements and many more as you listen to the historical facts and authentic stories of the people who originally used these sites. The National Historical sites visited include the following; Hatley Castle, Fort Rodd, CFB Esquimalt and possibly Macaulay Point. The Hatley Castle which dates way back to 1908 was initially built by James Dunsmuir as his personal residence but later in 1940, it was transformed to a Naval officer training establishment. In addition, the beauty of Hastley Castle has over the years drawn lots of visitors including photographers, film crews and directors. Fort Rodd is a coastal artillery fort which dates back to the 1890s. Besides the many attractions that this can offer, its acres of meadows offer spectacular oceanic views. On this site you will as well get to visit oldest light house in western Canada, the Fisgard Lighthouse which was established in 1860.Let your kids play its interactive exhibits as you relax back and enjoy the moments. A visit to the CFB Esquimalt Navy base will enable us explore the amazing ships as we head to the Naval and Military museum. If possible we can also hike around Macaulay Point, a historical site for the National defense.
Tour Duration: 6 Hours (9:00 am – 3:00 pm)
Tour Type: Transport Based
Tour Price: Group price for 1-7 passengers (Full size Luxury SUV)
A flat rate of $650.00 per/group (Plus applicable 5% tax)
Group price for 8-14 passengers (Luxury Ford Transit Touring Van)
A flat rate of $850.00 per/group (Plus applicable 5% tax)
Tour Highlights:
After pickup at downtown, we shall enjoy a scenic drive along the water way to Hatley Castle. We shall spend up to an hour exploring the grounds and also visit the museum in the Castle. From the Castle, we shall enjoy a scenic waterfront drive to Fort Rodd where we shall spend approximately 2 hours to exhaust exploring the grounds. Later on, we shall have lunch at a place of your choice. We recommend Spinnakers which is Canada's oldest craft brew pub or the mess hall at the Navy base. After enjoying our lunch we shall head to the CFB Esquimalt which is Canada's West Coast Navy base and visit the Naval and military museums. If it's possible we shall also have a 30-minute hike at Macaulay Point which is at site on our way back.
Tour Inclusions:
Free pick up and drop off at any downtown location.
Bottled water for each passenger
1 infant seat if requested.
Storage space for a wheel chair, walker, or scooter.
Umbrellas
Tour Exclusions:
Admissions to attractions
Lunch is not included (Time for lunch will be taken at 12:00 pm I do recommend Spinnakers Brew Pub for this stop)