Waterfalls, Coombs, and Cathedral Grove Rain Forest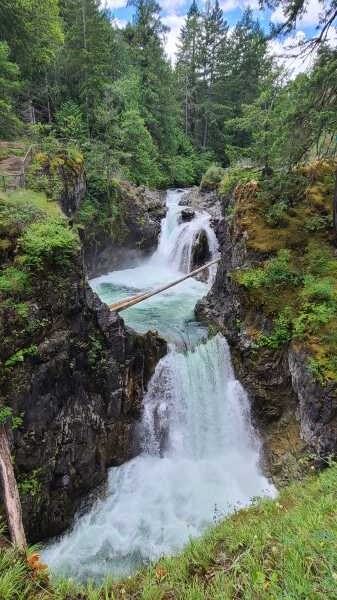 Private sightseeing tour Introduction:
Would you wish to experience Vancouver Island's best scenery? Then if you love nature at its best you will also love this tour. Have a fun-filled day out on a personal guided tour and enjoy a scenic drive up the island past Nanaimo to Coombs area where you will experience some of Vancouver's best scenery. Activities in this tour include; visits to Englishman River Falls, Country village of Coombs, the Little Qualicum Falls and Cathedral Grove. Enjoy a spectacular experience of the Coombs market as you view goats grazing on the roof of the market. The Cathedral Grove is incredibly beautiful with some of the oldest trees on the Island which date back to 500 years ago! All the tours can be custom-tailored to match your interests and requests.
Tour Duration: 8.5 Hours
Tour Type: Transport Based
Tour Price: Group price for 1-7 passengers (Full size Luxury SUV)
A flat rate of $850.00 per/group (Plus applicable 5% tax)
Group price for 8-14 passengers (Luxury Ford Transit Touring Van)
A flat rate of $1150.00 per/group (Plus 5% applicable tax)
Tour Highlights:
After pick up at downtown, we shall enjoy a one and a half hours scenic drive over the Malahat summit as we make our way up the Island past Nanaimo to the Coombs district. Our adventure will begin by having a stopover at the Englishman River falls, where we shall enjoy an amazing hike to both the upper and lower falls for great photo taking opportunities. Afterwards, we shall make our way to the Coombs County Market where we can have our lunch and enjoy shopping at the local shops. Later on, we shall head to the Little Qualicum Falls where we will enjoy a breathtaking hike to both the upper and lower falls for some wonderful photo taking opportunities. Next, shall be a visit to the Cathedral Grove, an enchanting rain forest with some of the oldest and largest trees in the world. After a brief hike in the enchanted forests we shall eventually make our way back to Victoria. Remember to bring with you a snack to replenish the lost energy in the tour activities.
Tour Inclusions:
Free pick up and drop off at any downtown location.
Bottled water for each passenger
1 infant seat if requested.
Storage space for a wheel chair, walker, or scooter.
Umbrellas
Tour Exclusions:
Lunch (We usually take time for lunch at the Coombs Country Market where there are "Goats on the Roof")