Historical Adventure Tour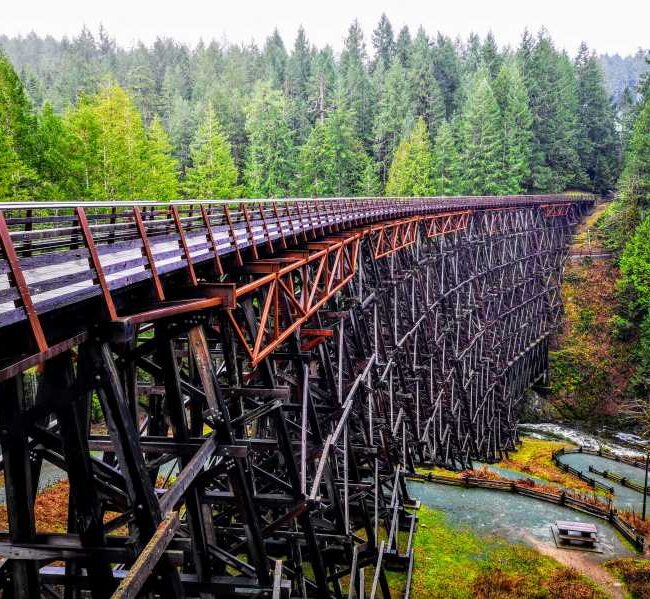 Private sightseeing tour Introduction:
Would you be craving for adventure to some incredible historical landmarks and facts that you never knew? Join Surfside Adventure tours as we expertly take through some of the outstanding historical land marks outside of Victoria. The tour includes a visit to the following destinations; Hatley Castle, Goldstream Park, Kinsol trestle, the B.C. Forest Discovery Centre in Duncan, and Chemainus.
Hatley Castle which dates back to 1908 is the current administrative centre for Royal Roads University was designed by a Victorian architect and built by James Dunsmuir. A visit to the Goldstream Park would be amazing as it reserves some 400 year old cedar trees. The recently completed incredible Kinsol trestle is one of the highest wooden trestles in the world which is open for viewing at your pleasure. We will enjoy a scenic train ride around the grounds of the B.C. Forest Discovery Centre in Duncan .Never the less a visit to the Chemainus, an historical seaside community with murals will acquaint you with some historical facts and hidden gems that you never knew before.
Tour Duration: 8.5 Hours
Tour Type: Transport Based
Tour Price: Group price 1-7 passengers (Full size Luxury SUV)
A flat rate of $850.00  per/group (Plus applicable 5% tax)
Group price for 8-14 passengers (Luxury Ford Transit Touring Van)
A flat rate of $1150.00 per/group (Plus applicable 5% tax)
Tour Highlights:
The tour will start by a visit to the Hatley Castle after which we shall have a stopover at the Goldstream Park to have a view of the 400 year old grown trees and possibly have a hike to explore the Park more. Next, shall be a scenic drive along the Malahat Drive and have a short stopover at the summit for a photo taking opportunity before making our way to the Kinsol Trestle. The Kinsol trestle is a historical wooden train trestle that crosses over Koksilah River. We shall enjoy a moderate 20-minute hike to the trestle and spend an amazing 30 minutes exploring the trestle. We shall then take some time to enjoy lunch. Please be advised that lunch taken shall be upon your choice either box lunch or at a Bistro which can be discussed prior to the tour for us make necessary arrangements. After lunch we shall have a 20 minute drive through Cobble hill, a beautiful country setting on our way to the B.C. Forest Discovery Centre in Duncan. We will experience a nice train ride around the scenic property.  From there we will head off to the historical logging community of Chemainus, and also it is the famous town of murals on the sides of the buildings. You will have time to explore the murals and the history of the town and its shops. Finally we shall have a 1 hour-drive as we summarize the tour back to Victoria. Remember to bring with you a snack to replenish the lost energy since this tour consists of activities that will burn lots of energy.
Tour Inclusions:
Free pick up and drop off at any downtown location.
Bottled water for each passenger.
1 Infant car seat if requested.
Storage space for a wheel chair, stroller, walker or scooter.
Umbrellas
Tour Exclusions:
Lunch
Admissions to the B.C Forest Discovery Center