Salmon Run Tour (Once a Year Oct.15-Nov.30)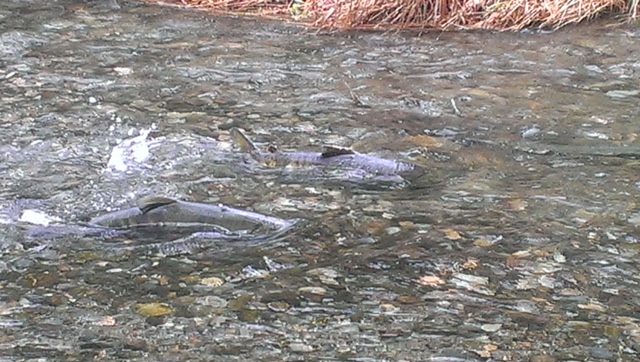 Private sightseeing tour Introduction:
 This is an exciting way to enjoy one of natures wonders observing various species of salmon make there way up stream to spawn. This is a treat for most visitors regardless of whether you are a hiker seeking inspiration or a naturalist. The most popular attractions drawing visitors to the Park are the massive trees, majestic waterfalls, fascinating fish, flowers and a meandering river to the sea, which are just but a few. This destination also attracts bald eagles, black bears, cougars or wolves feeding on the salmon.
Join Surfside Adventure Tours to witness this natural phenomenon as bald eagles fly down to devour the spawned out salmons.
We take you to a remote area where there is less people, so there is higher chance of seeing more wildlife. We are your best chance to witness black bears feeding on salmon as we have been 90% successful in the past. Although such sightings are never guaranteed. Your best odds are if you are flexible to such viewing times that bears may be out. (Please inquire)
Tour Duration: 2.5 Hours
Tour Type: Transport Based
Tour Price: Group rate of 1-7 Passengers (Full size Luxury SUV)
A flat rate of $280 per/group (Plus applicable 5% tax)
Group rate for 8-14 Passengers (Luxury Touring Van)
A flat rate of $400.00 per/group (Plus Applicable 5% tax)
Tour Highlights:
After the departure from downtown Victoria we shall enjoy a scenic drive up the south coast. We shall then stroll through the 400 year old grown forest to explore the wildlife and at its natural habitat, this will also include viewing of the salmon spawn. We will get to hike throughout the Park enjoying the beautiful fall colors, amazing view points and waterfalls. If luck will have it we shall observe Bald Eagles swoop down to scoop a salmon, and possibly black bears or other wildlife coming down to feed on the salmon. With Surfside Adventure Tours we have a 90% chance of witnessing black bears feeding on the salmon. It is never guaranteed to see such wildlife but we have the experience to deliver you the best overall chance of such encounters.
Tour Inclusions:
Free pick up and drop off at any downtown location
Bottle of water for each passenger
1 infant seat if requested.
Storage space for a wheel chair, walker, or scooter.
Umbrellas
Tour Exclusions: